Alias Smith and Jones Page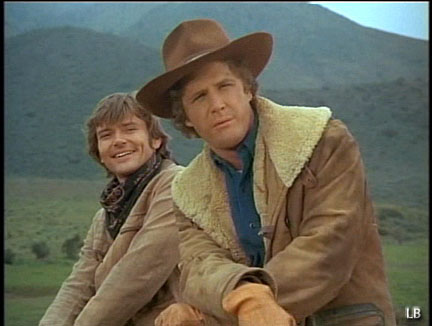 This is a page about a favorite tv show of mine, "Alias Smith and Jones!" I really loved the chemistry between the two stars of the show, Pete Duel and Ben Murphy! There are Music Videos, pictures with the actors from the show, Video Captures (Vidcaps), Games, and AS&J Graphic Design Work! I have a Pete Duel Page with collages and avatars, Pete Graphic Design Work, and Fan Piction (Fan Fiction in Pictures)! Enjoy your visit here, and come back to see changes I'm always making! Please don't link to my images, and (if you want to use some of my work on your site, please give me credit and e-mail me to let me know where they are - Thank you!) The photos I use are video captures I made from the show. Also, no copyright damage is intended since this is just a fan site to share my fond memories of the show and the actors with other fans. If you have questions, you may contact the webmaster.

Here is a music video I made with Pete Duel as Hannibal Heyes and Ben Murphy as Kid Curry in "Alias Smith and Jones" with music from the show at the end. This has video captures (stills) I made from the show in it.




This is an upbeat music video about Hannibal Heyes which has stills and videos in it called "Pete Duel in A Heyes Fest!" It has "Baby It's Me" by Petula Clark.

You can see these videos and more on my Videos page! Also, see Pete videos on his page Always Remembering You, Pete...
If you want to know when I've got updates to my website, please join my mailing list.
Last updated January 26, 2018
Copyright © Linda Bennett. All rights reserved.
Website design, graphics, videos, photos, and artwork are by and the property of Linda Bennett. Other graphics are the property of their credited owners. Images are not allowed to be displayed in any form on other web sites or on the web in general without permission from the webmaster.