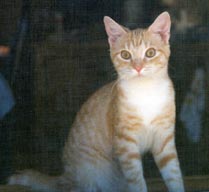 One of the paws-times I enjoy the best is bird watching - all I have to do is look out my window!

I'm lucky I live in an area with so many different kinds of birds - like this quail.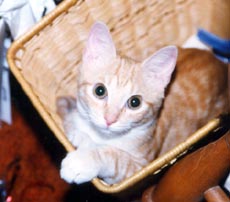 Another one of my paws-times is basket weaving. I really get into it!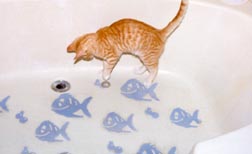 When I'm in the mood for something more active, I like shot put. It's where you throw the discus into the hole - if you can!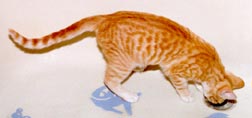 I also like "drain dipping" - where you try to catch whatever's down the drain. You never know what you'll find!
OK, this time you had to have seen them! You didn't? You don't know what I'm talking about? You think I'm crazy? Well then, just go back and put your cursor on the pictures. Something will appear (sounds kinda mysterious, doesn't it?)

Well, that about does it for my paws-times - for now.

See ya!

Prowling Sunshine's Site

Copyright © Linda Bennett. All rights reserved.
| Sunshine's Home | What's New? | My Family | Sunshine's Story | Sunshine's Schedule | Sunshine's Sports | Paws-Times | Don't Declaw - Reasons and Alternatives | Games | Sunshine's Web | Sun-Dawings | E-Cards | 60th Anniversary | Christmas Memories | Thanksgiving | Sunshine's Valentine | Awards | Banners | CLAW | Links | Memfurships | Purr Scouts | Webrings | E-Mail |