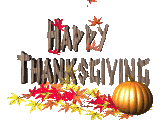 Hi! I called my Thanksgiving page, "A Home for the Holidays", because that's what this Thanksgiving means to me.

You see, last year at this time my "home" was the streets. I was a stray, and Thanksgiving dinner meant going through garbage bags or trying to catch something to eat.

My home was under a car or mobile home, in the cactus or weeds, or any place where I could find shelter.

Every day that I survived was Thanksgiving for me since it's dangerous to be a kitty alone on the streets, and I didn't know how long I would be alive.

However, all that changed last year. It was the week after Thanksgiving, and I got stranded on top of a storage shed. I kept calling out for help, until I was finally rescued. A lady took me in and gave me a home. She became my Meowmie, and I've had a "home for the holidays" ever since! (You can read the whole story on Sunshine's Story page.)

Now, a year later, I'm celebrating my first Thanksgiving where I can really give "thanks"! I've got a nice warm home, food to eat, and a Meowmie who loves me. What more could any kitty want!

I want to wish all of you a "Happy Thanksgiving", and I hope you have a home for the holidays too!




Click the pic
to submit your site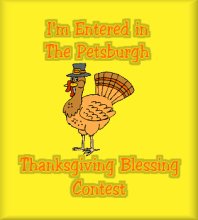 Prowling Sunshine's Site

Copyright © Linda Bennett. All rights reserved.
Other graphics by The Animation Factory and Graphics (GIF) Archive
MIDI, "Turkey in the Straw."
| Sunshine's Home | What's New? | My Family | Sunshine's Story | Sunshine's Schedule | Sunshine's Sports | Paws-Times | Don't Declaw - Reasons and Alternatives | Games | Sunshine's Web | Sun-Dawings | E-Cards | 60th Anniversary | Christmas Memories | Thanksgiving | Sunshine's Valentine | Awards | Banners | CLAW | Links | Memfurships | Purr Scouts | Webrings | E-Mail |