Working Out
I like working out at "Cat Climbers" - it's a great gym (you should try it).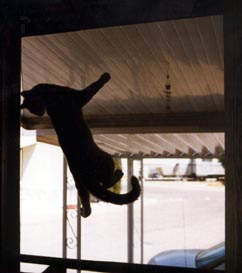 There are many challenges here - like screen door climbing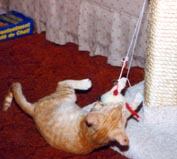 rope pulling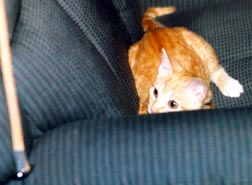 and belt bouncing (where you catch the swinging belt - and hold on!)
There's a new challenge here called "table climbing!" It's where you hang upside down on a table and go from one end to the other.
(It's simulated to look like a real living room!)

(Click the words YouTube under the picture to see the video of me.)

Gee, I hope I don't fall!

See other videos of me on my Sunshine's Story page, and on my Home page!)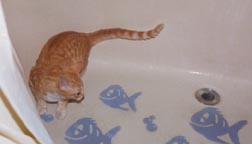 They also have an indoor track at Cat Climbers.
Here I'm cat racing.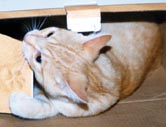 Cat Climbers also has a weight area.
I'm strengthening my teeth in the "box biting" room.
Did you see the hidden messages this time? If not, just put your cursor on the pictures - and like magic they appear! Try it.

That's it for now.
When I get involved in more sports, I'll be sure to mention them here.

Bye!

Prowling Sunshine's Site

Copyright © Linda Bennett. All rights reserved.
| Sunshine's Home | What's New? | My Family | Sunshine's Story | Sunshine's Schedule | Sunshine's Sports | Paws-Times | Don't Declaw - Reasons and Alternatives | Games | Sunshine's Web | Sun-Dawings | E-Cards | 60th Anniversary | Christmas Memories | Thanksgiving | Sunshine's Valentine | Awards | Banners | CLAW | Links | Memfurships | Purr Scouts | Webrings | E-Mail |